Right now this picture is a decent representation of my life: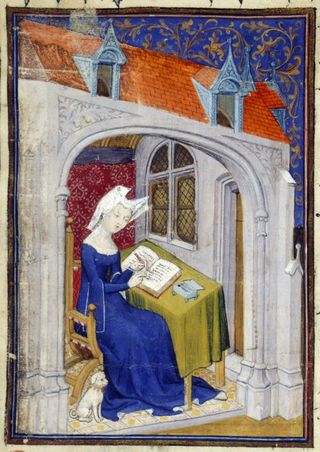 She is probably lesson planning and recording grades rather than writing because summer is over, but the medieval part is also appropriate because the 10th grade Humanities has now crossed into the [other] most wonderful time of the year: The Medieval Unit.
Literature, language, history, music, all the art I learned about over the summer…it's a beautiful thing. So in honor of crossing over into my unabashedly favorite subject to teach, I'm going to introduce you to one of my new favorites. Hildegard of Bingen (sometime von Bingen)
I stumbled across her while lesson planning. I think I had heard the name before, but not really investigated until this week. This gal was pretty remarkable, and I think that women in particular of all beliefs and persuasions can take inspiration from, whether Christian or unaffiliated, Catholic or Protestant, Presbyterian or happy-clappy, etc. (Note: This means that we don't miss the big idea by picking apart the nuances her many volumes of theological writing or getting hung up about the fact that she saw visions.) Here are the deets:
She was a Benedictine Prioress from Germany. Highly educated, she was a prolific writer who wrote not only the aforementioned theology, but biographies and scientific writings, both medical and natural history. She was also a botanist and subsequently a pharmacologist, due to her vast knowledge of plants and herbs combined with tending the sick.
She also composed beautiful music, a significant contributor to the canon of Gregorian chant. Here is one of her many
compositions
.
She was widely respected, often considered the expert in her many fields, such that even high-ranking men would ask her advice and council. In choosing to be a nun and devoting her life to service of God, she wasn't choosing to shun the rest of life. Rather, she used her life of service to God to tackle life by the horns.
Devotion to God = tending a garden? Hildegard will study biology to the point of expertise
Devotion to God = caring for the sick? Hildegard will build on those garden skills, and become a medicinal pioneer
Devotion to God = music? Hildegard will compose over 70 pieces and become one of the most famous composers in the genre
You see where this is going? Let's hear it for our gal Hildy.